Many people ask me, Akshay what's the best website building platform amongst Wix and WordPress. 
I'm tired of answering everyone verbally.
Now, I am going to write an extensive guide on Wix vs WordPress topic, so that I can simply share this article link to whoever needs it. This would be a better solution than verbal talk, I guess!
So before comparing Wix and WordPress, let's have a look at What Wix and WordPress actually are.
What is Wix?
Wix.com is a cloud-based web development service that allows you to create a website even if you don't know a single dime of code. Interesting, no?
I am pretty sure you would have come across Wix.com by watching its constant advertising on YouTube and Television. 
Wix has everything in one place; domain, hosting, eCommerce functionality, design templates, and dedicated support. 
Wix has visually compelling design layouts specifically for small businesses, online stores, restaurants, musicians, photographers, gym owners etc. 
Also, it has Wix ADI (Artificial Design Intelligence) mode which creates an automatic website for you by asking some relevant questions. 
What is WordPress?
WordPress is the most popular Content Management Software (CMS) present today. It is said that one-third of websites (33%) in the world are powered by WordPress. It is that huge! 
WordPress is an open-source platform, which means anyone can download & install it, anyone can upload themes & plugins, and so on. It is free to use, all you have to do is register a domain and hosting from sites like Godaddy, A2hosting etc.
Based on your needs you might need to buy premium themes and plugins, but apart from this WordPress is completely free.
One more thing people get confused about is WordPress.com and WordPress.org. 
WordPress.org is a content management software that you can download, install and host your website. WordPress.com on the other hand is more of a website builder which is a blogging platform.
In this article, we are going to see Wix vs WordPress.org.
Still with me?
Cool, here we go.
Wix vs WordPress Detailed Comparison 
This is going to be an exciting comparison where we will compare Wix and WordPress on the basis of – 
Ease of use

Design & Customizations

Plugins & Apps

Ecommerce functionalities

Blogging

SEO

Pricing

Customer Support
So, let's dive in.
1) Ease of use
Wix is super easy to learn, hands down! All you have to do is drag & drop the elements like paragraphs, pictures, slides, popups, shopping carts etc, and start editing with WYSIWYG interface. Even if you don't have coding knowledge, still you can make a stunning website in Wix.
There are more than 500+ templates available in Wix's library. Choose any template you like and start editing. It's very simple and mostly preferred by beginners. 
WordPress on the other hand has a steep learning curve. It is flexible, but with a bit of complexity. You need technical knowledge to make things work. As WordPress is an open-source platform, there is no dedicated support. You need to learn WordPress from blogs, forums, and videos. 
But on a serious note, once you learned WordPress, there's no one stopping you. You can do a lot of advanced things which you couldn't do in Wix. 
Verdict: As far as ease of use is concerned, Wix is a clear winner here. 
2) Design & Customizations
As mentioned above, Wix has more than 500+ templates for various niches/industries. You can choose your favorite, and start editing which is a smooth process. But, still, Wix has certain kinds of limitations. Wix is not an open-source platform like WordPress. It is owned by an Israeli company also called Wix. Consequently, you can't make customizations to it. You can use only those things which are already available out there.
With WordPress, on the other hand, you can build your website as you want. Even if you don't have coding knowledge, you can hire someone to make changes for you. WordPress has over 11,000 themes and 50,000+ plugins which are so huge as compared to Wix. 
But on a serious note, WordPress's this ability can sometimes result in a security disaster. On WordPress, anyone can upload themes and plugins, and some of them can be buggy. Using such themes & plugins leads to malware attacks. Hence, we recommend you use only authentic themes and plugins. 
Verdict: Though Wix has in-built beautiful designs, WordPress wins here due to its superb customization ability.  
3) Plugins & Apps
Plugins and apps are third-party tools which are used to extend the functionalities of the website. Before you get confused, let me tell you that Plugins & Apps are the same. Wix calls it Apps whereas WordPress calls it Plugins. 
Wix has around 200+ apps such as Wix Forms, Site booster, Wix gallery, and many more. Some of them are free, some require a monthly subscription.
All apps are controlled by Wix itself, hence a very minimal chance of being buggy. Even if you face any technical problem, Wix's team can fix it for you. 
On the contrary, WordPress has over 50,000 plugins. Some are free, some are premium. Whatever the feature you would like to add, chances are you will find a plugin for that. It's so extensive. You can do anything with these plugins, but again, it comes with a risk. If you used only authentic and premium plugins, updated on time, then it's good to go.
Verdict: Security part could result in a tie, but if followed the proper procedure, WordPress is a beast here. 
4) E-commerce
Wix has a dedicated online eCommerce store. With this, you can set up your online storefront, set pricing and shipping rules. It has over 500+ professional online store templates. However, you need to opt for paid Wix plan. Ecommerce functionality doesn't work with a free plan. 
Wix is fine for simple products where you don't need more customizations and advanced features, but if you want more flexibility, you would like to shift away from Wix. 
Even though WordPress is known as a popular Content Management System, it is much more than that. By downloading third-party plugins like WooCommerce and Easy Digital Downloads it becomes so easy to set up robust and easy online stores. WooCommerce alone powers 42% of eCommerce websites in the World. WooCommerce is totally open-source, thus you can modify it as you want and even take unlimited orders.
Verdict: With more flexibility options, WordPress wins this race.
5)  Blogging
You can add a blog section to Wix site. It has all the basic features like categories, tags, images, videos, archives etc. However, it lacks a native commenting option. You have to use the Facebook comments plugin which I find sometimes spammy. Apart from this, you can do SEO of your blog but again it has limited options. You can tracking codes like Google Analytics, Google Tag Manager, Facebook pixel. To do that, simply click on the Marketing Integration option on your Wix site. Note that, you should have an upgraded version of Wix to use it. 
Talking about WordPress, it started out as a blogging platform and later turned into a full-fledged website builder. It has all the features you required for blogging. WordPress has a robust classic editor which gives you many more formatting options like adding media, font settings, categories, tags, featured image, native commenting etc. Also, you can extend functionalities by installing third-party plugins like Yoast, RankMath, WPForm, Akismet, Sucuri, WordFence etc. Also you can integrate the Facebook messenger plugin which is a very useful feature. 
Verdict: If you want to do serious blogging, WordPress should be your choice. 
6) SEO
For those who don't know what is SEO – " Search Engine Optimization (SEO) is a technique to optimize the website in order to improve its ranking position in Search Engine Result Page (SERP)".
Higher the ranking position, the more the traffic. 
So where do Wix and WordPress stand in this comparison?
Let's have a look at Wix vs WordPress SEO. 
With Wix you can change your meta title, meta description, add focus keywords, alt tags for images. Also when you install an app like Site Booster, you can embed your company address in search results, target keywords, and performance tracking.    
Besides this you can connect your Wix site to Google Search Console, Google Analytics, also you can add tracking codes. Wix's SEO is good, but where it lacks is in page load speed. You don't have control over its server. High page load speed affects SEO badly. 
In WordPress, you can install the SEO plugins like RankMath or Yoast, and do all the necessary stuff required for On-Page SEO. You have control over the hosting server, hence you can also manage page load time. 
Ahrefs conducted a survey on Wix vs WordPress SEO where they studied 3.2 million Wix websites and 3.2 million WordPress websites. During study, they found WordPress websites got higher organic traffic as compared to Wix sites. 
Verdict: Again, WordPress wins the race. 
7) Pricing

    
Wix offers a basic plan for free. But it has limitations like you can't use custom domain, also branded ads of Wix appear on your website. If you want a custom domain which I think you should, then you need to upgrade your plan. 
Here are the plans –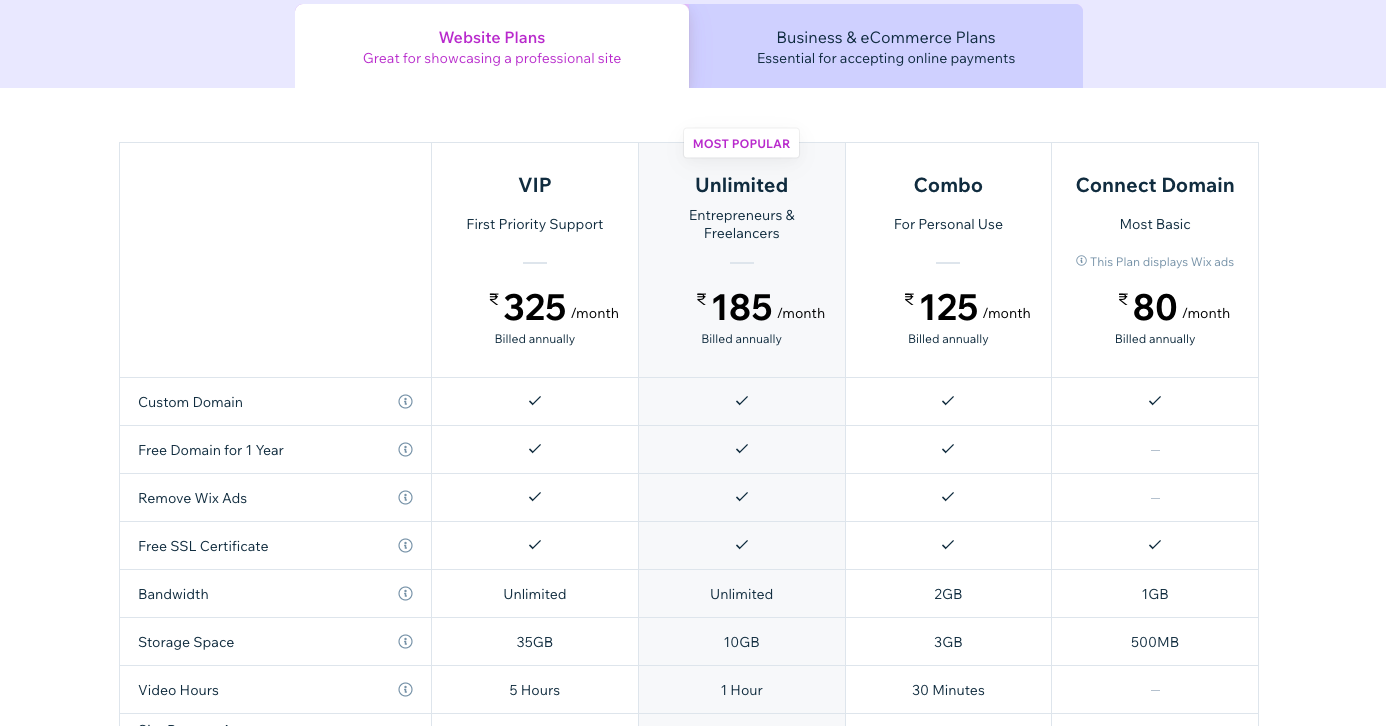 Everything is taken care by Wix. Your domain and hosting is at one place which is good but also has a downside. If in future, you want to transfer to different hosting, you can't do that in Wix.
WordPress on the other hand is flexible in this aspect too. Its software is completely free. You just need to buy domain from domain providers like Godaddy, BigRock.  And Hosting from hosting providers like BlueHost, SiteGround, A2Hosting. You can buy both domains and hosting from a single provider too, but I recommend you to keep it separate. 
Apart from this, you might need to buy premium themes which cost anywhere around $50-$200. 
Verdict: Close call.    
8) Customer Support 
Wix has dedicated phone support available in English, Spanish, French, Italian, and Portuguese. Also, they have an extensive list of articles related to common problems that occur during setting up a site. This is helpful when you are a newbie or you are developing websites for clients. Any issue can be resolved by opting for Wix customer support.
WordPress has no official dedicated customer support. You have to go through their forum, various blogs, YouTube videos if you face any problems. If you are new, it might be a daunting task for you. However, if you purchase premium themes & plugins, in that case, you can get customer support from the provider. But again, that's limited to their products only. 
Verdict: Wix is a clear winner here. 
Conclusion:

  
So we are done with the comparison. Now, I think you may have made an assumption about is Wix or WordPress better. Still, I would like to add a few words here.
If you are a newbie with a lack of technical skills, and you don't expect your website to be 'feature-rich, then Wix is the best option for you. 
But, if you want your site to be flexible with advanced features, then go for WordPress. 
I hope I've thrown enough light on Wix vs WordPress topic, still if you have any doubts, please feel free to comment below.